The Linguistic Society of America offers an extensive response the question Why Major in Linguistics?
Here, our own Linguistics alumni and senior students share why they chose to major in linguistics.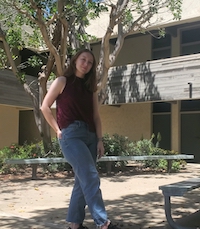 Bridget Egan, a Linguistics and Machine Learning double major at UC San Diego, won a Boren Scholarship for 2022-23, a very competitive and prestigious scholarship from the U.S. Department of Defense. Each scholarship provides up to $25,000 to support a U.S. student who wants to study abroad for 1 year, with special emphasis on learning or improving their knowledge of a foreign language. Bridget is the first UC San Diego student to win a Boren Scholarship in the last 8 years. Congratulations, Bridget!
---
Before coming to UCSD, I was unsure about what I wanted to study. I felt that my areas of interest were too scattered: I loved languages, but also anatomy, I loved reading, but also mathematics. It wasn't until speaking with an advisor in high school that I learned about the field of linguistics, and suddenly all the late nights I spent on Wikipedia looking at language tree diagrams made sense. Not only was there a field that perfectly blended my varied interests, but my top choice school in California had a program for it. Having been a linguistics major at UCSD for the past three years, I can confidently say I have found my place, my people, and my passion. I am incredibly thankful to our wonderful department, which has invested in me as a linguist more than I could have dreamed or asked for. The UCSD Linguistics Department and all its inhabitants are kind, encouraging, and infinitely generous with their time and knowledge.
I first heard about the Boren Scholarship in my junior year of high school. My plans regarding this scholarship have changed many times, but I am quite excited to be taking a full year in South Korea at the esteemed Yonsei University in Seoul. I plan to use my time there completing my double major in Linguistics and Machine Learning, along with enrolling in their Korean language intensive program. After graduation, I hope to stay abroad to continue my language goals, working in some kind of foreign service occupation. And though I've not gone abroad yet, I'm so grateful for this opportunity, which I know has already changed my life. I'm honored by the Boren Foundation for their trust in me, and excited that I am able to represent the Linguistics Department of UCSD. Studying abroad will be an adventure I'm certain I will never forget, and I sincerely encourage my fellow linguists to consider studying abroad as well.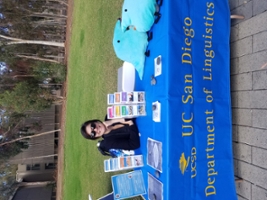 When I started community college, if you said you were studying linguistics, I would have probably asked "So...how many languages do you speak?" I have definitely come a long way since then.
What inspired my foray into the world of linguistics was a fascination with foreign languages and the variety of dialects and accents I'd been exposed to from moving all over the US and other countries as a military brat. After high school, one of my jobs involved teaching students at after school programs who spoke languages from Arabic to S'gaw Karen while simultaneously taking all the Spanish and Russian classes available at my local community colleges.
These experiences led me to think about our tacit knowledge of language, and its structures, variations, and similarities. I started noticing patterns and wondered how to account for them and how they interact with each other at different levels. I wondered how this knowledge is applied when we communicate and how are our brains evolved to do it in the first place! These questions led to more questions and the UCSD Linguistics major had the answers.
I am currently a senior and, looking back, could not be happier with my decision to transfer to UCSD to study Linguistics. I have had outstanding professors who have helped elucidate the captivating phenomena of language through many different lenses, from brain structures to sound to computers. My classes have equipped me with the knowledge to evaluate, articulate, and discuss what the study of language entails to an extent that continues to grow.
The program laid a solid conceptual foundation about linguistics and its various subfields, and allowed me to explore the scientific process, understand the dynamics of academia, and how data should be collected and analyzed depending on the types of investigation that are being carried out. I learned about this in class but also empirically by doing research.
As an undergraduate, I have had to the opportunity to work on multidisciplinary, collaborative projects in both the Cognitive Science and Linguistics departments. In the Language and Cognition lab, I study inference in language as well as prosody and ambiguity. I'm also working on the Border Spanish project where I get to apply my knowledge of phonetics to study Spanish consonant variation in the San Diego/Tijuana region.
The skills I have gained through my coursework and participation in research have prepared me to take on upcoming challenges. I am certain that thanks to a solid theoretical foundation, strong critical thinking skills, and immersive hands-on research experience, I am ready to contribute to advancing knowledge in the field of Linguistics. The Linguistics Department at UCSD has made this possible!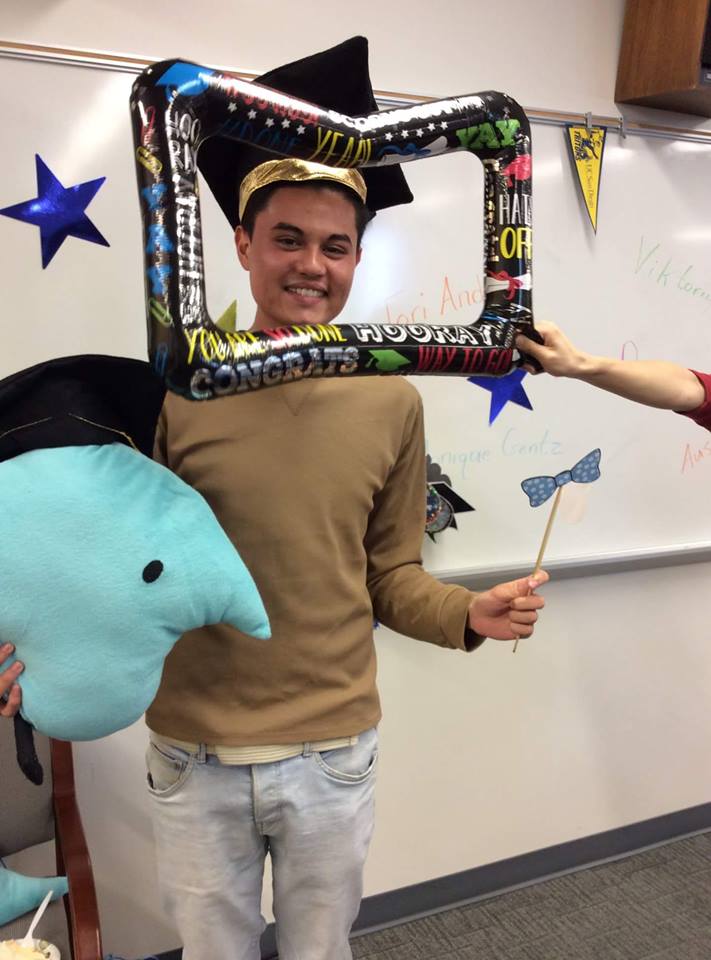 I came to UCSD knowing that I wanted to major in linguistics. What first captured my interest in linguistics was the sheer diversity of all the languages of the world. When I learned that language is not only spoken but also signed, I took Psycholinguistics of Sign Language with Professor Rachel Mayberry and Sociolinguistics in Deaf Communities with Professor Peggy Lott. These remain two of my favorite courses because they equipped me with a solid grounding in sign language research from two very different perspectives. With these under my belt, I began to work under Professor John Haviland of the Anthropology department, who was researching a sign language of southern Mexico called "Z sign". As his research assistant, I got my first experience dealing with real linguistic data, and I became curious about the languages of Latin America.
Following this curiosity, I took Indigenous Languages of the Americas, a course taught by Professor Gabriela Caballero with the explicit goal of "preparing students for possible future research". The professor invited a speaker of Kumeyaay, the native language of San Diego, to teach our class bits of her language and give us an idea of what linguistic fieldwork might be like. From this experience I knew I had to get involved. I took on another research assistant position under Prof.​ Caballero​ working on Choguita Rarámuri, a spoken language of northern Mexico, and even though I've graduated I still work with her on the project.
During my senior year, I wrote an honors thesis on Z sign under the joint supervision of Professors Haviland and Caballero. I couldn't have had better preparation for graduate school, where I am pursuing a career in documentary linguistics and continuing my work on Z sign. At UCSD, I had the privilege of taking courses from experts in linguistics (and related fields!), and I had opportunities to work closely with faculty to gain hands-on experience in linguistic research.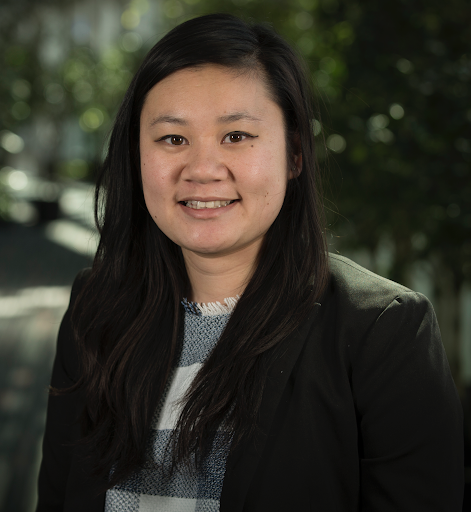 I remember the Linguistics Department at UCSD as welcoming and intimate. I majored in multiple subjects, but the amiable atmosphere within the Linguistics Department stands out the most. In my experience, the professors have been great at learning students' names and happily give their time to help students succeed. During my first year at UCSD, I used to drop by professors' offices without notice to ask questions (back when I didn't understand the purpose of office hours). Despite disrupting their personal work hours, I was always met with a genuine readiness to help which I recognize now as uncommon demeanor in other departments. It is these small, supportive actions within the department that I am so grateful for today.
During my undergraduate career at UCSD, I was particularly interested in research--it wasn't enough for me to just learn about the complexity, diversity, and nuances of languages; I wanted to play an active part in investigating linguistic behavior and teasing apart regional differences of specific languages. I worked with Professor Roger Levy (now at MIT), and Professor Grant Goodall over the course of multiple years on these respective problems and it is their mentorship which have led me to become the researcher that I am today. In my graduate studies, I no longer study linguistics, but the skills I learned--experimental design, facilitating human studies, eye-tracking, data analysis--all remain relevant. Furthermore, I find that linguistics remains relevant across multiple disciplines: syntax is also taught in computer science, psycholinguistic studies are referenced in psychology, language development is discussed in child development fields. Therefore, when I venture into other fields due to my interdisciplinary work, I find that linguistics is often a useful and necessary component.
My experience in the Linguistics Department at UCSD has been one of support, professional development, and intellectual challenge. If you've never taken a course, I'd recommend taking a beginning linguistics course and see if you get hooked the way that I did!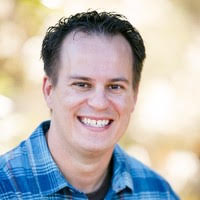 I've been in love with language for as long as I remember. I distinctly recall pestering my mom to explain why some people didn't speak English when I met a Spanish speaker in preschool, and even as a young kid I became obsessed with the idea that humans could communicate in ways so different from my own.
When I was 14 I saw an awful sci-fi movie called Alien Hunter (seriously, don't watch it), where James Spader played a linguistics professor, and I knew from then on that I wanted to study linguistics.
My experience at UCSD was amazing, and I would definitely not have taken the path I have in life were it not for what I learned there. Although I loved every class I took, there were two courses that made a particularly big impact on me:
Learning about how language was used in advertising opened my eyes to the possibilities of using linguistics outside of the academic world, and led me to pursue a career in marketing. And my linguistics training has helped me a ton as a marketer.
I've regularly used my knowledge of dialects when marketing in different regions, and I've even been able to give presentations to my colleagues on how to write more effective ad copy using sociolinguistics as a guide when marketing to diverse demographics.
I know that I wouldn't be as effective in the business world if I hadn't studied linguistics. From learning how to interpret data in Phonetics, to learning how language shapes our world Language and Gender in Society, I frequently fall back on my UCSD education, and I wouldn't trade it for anything.
#wugLife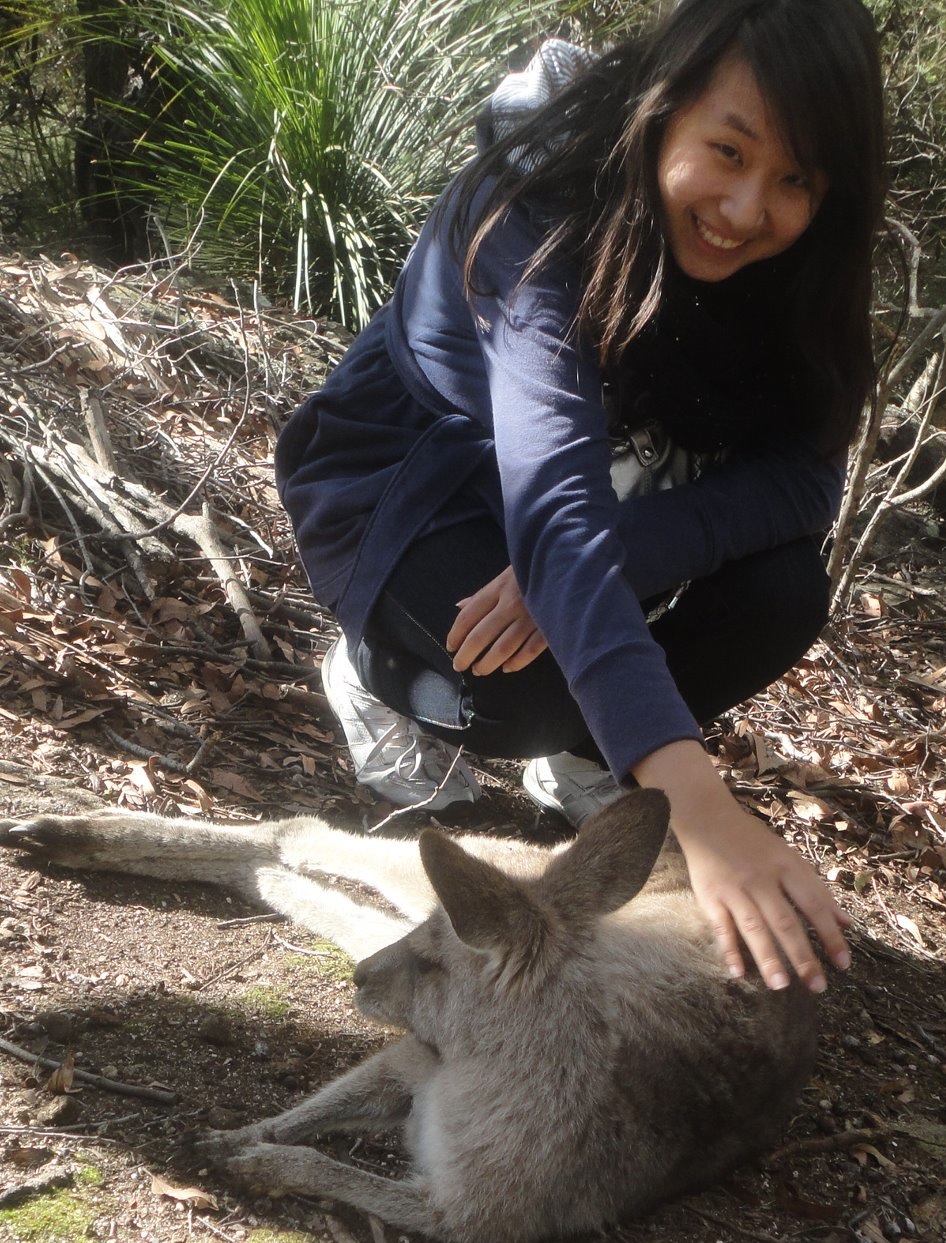 What system is as boundlessly complex—and yet so effortlessly implemented by humans— as language? Systematic rules of phonology, morphology, syntax, and semantics are analyzed and deployed by language users independent of explicit awareness of the names or parameters of these rules. Without knowing the term "subcategorization", you understand that "scared of" is appropriate in a way that "scared on" is not. Having never given consideration to the concepts of primary or secondary stress, the fluent English speaker feels that "fan-freaking-tastic" strikes the ear better than "fanta-freaking-stic". What gives rise to the organized yet intuition-laden experience of language use is a system that is structured and represented in a way that is infinitely detailed, sensitive to patterns, and, frankly, beautiful. Which is not to say that language is not messy or noisy—only that within the mess there is often order, and within the noise there is often something meaningful.
The field of language neuroscience captured me easily, one natural step at a time. As an undergraduate psychology major, I found that the most interesting parts of psychological science had to do with language, so I picked up a second major in linguistics. As a graduate student, I felt that the most interesting parts of language had to do with the brain, so I applied to the Language Neuroscience Lab in pursuit of my PhD. Now in the final stages of my graduate research, I use fMRI to study the neural correlates of language processing in both neurotypical individuals and stroke patients with aphasia. The UCSD linguistics department launched this entire line of inquiry in my research. My foundational coursework in two particular classes, LIGN 181: Language Processing in the Brain with
Robert Kluender
and LIGN 170: Psycholinguistics with
Roger Levy
, continues to inform my writing and discussions as a graduate student. Studying the field of linguistics is the basis for my incipient career as a research scientist and supports my development of constructed languages for a novelist's fantasy book series.
Linguistic study is composed of so many dimensions: theory, experimentation, computational modelling, puzzle solving, biological development, neural instantiation…to say nothing of the human aspect central to it all. If even one corner of language science interests you, I encourage you to contact or take a course with the excellent UCSD linguistics faculty to learn more about what is perhaps the most incredible component of human cognition.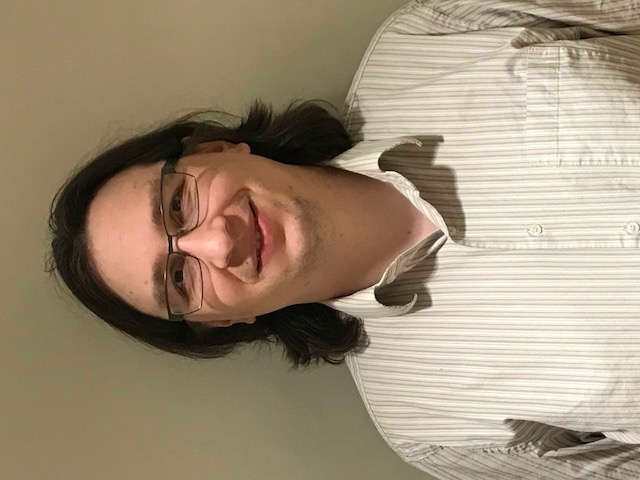 I majored in linguistics because the most incredible feat I have or ever will accomplish, I did before I started kindergarten: I learned a language from scratch. I took it for granted, though, until I took an introductory linguistics class in community college. After seeing the surface scratched into the depth of complexity in a linguistic system, I knew what I wanted to major in when I transferred.
Arriving at UCSD, I found the Linguistics Department to be everything I'd hoped for. Phonology! Rules and constraints governing and influencing why we say 'foxes' like 'foxez' instead of 'foxess'! Morphology, where, from a handful of pieces, all kinds of words can be created! Semantics, without which nothing has any meaning! Incredibly complex interactions and straightforward tendencies, and though undergraduate students sometimes struggle with the concepts, we all internalized it as toddlers!
It was also my good fortune to be able to take a course early on in which we read and looked critically at scientific articles: Second Language Acquistion Research with Professor Robert Kluender. This opened up a whole new world for me, which included an honors thesis that I presented at the 87th Annual Meeting of the Linguistic Society of America, as well as course credit and summer jobs as a research assistant. It also ultimately led me to graduate school and to a job as a researcher.
At UCSD, I found the faculty incredibly supportive (I ended up with no fewer than three mentors) and downright friendly. As a Linguistics student, the world of language opens up, taking you beyond learning how to speak (or sign!) a language, into the whats and the whys that lie beneath.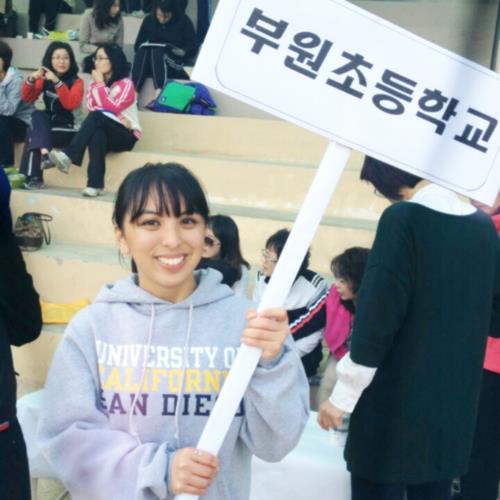 While applying to schools as an incoming Freshman, I had no idea what college would entail, especially being the first of my family to attend a university. Law had always intrigued me, and education had always fascinated me; however, after poring over the different majors offered, the one I could not get out of my head was Linguistics.
Since childhood, I felt an inclination towards language, and "decoding" language. I grew up listening to my family speak Tagalog at home, and I lived in a culturally and linguistically diverse neighborhood in South-East San Diego. Throughout my primary and secondary school years, I read as many books as I could about different languages, ranging from French, to Italian, to Japanese. I enjoyed looking for patterns within grammar, and learning the different nuances of vocabulary. Once I realized that I could pursue such linguistic knowledge and moreover earn my degree with it, there was no doubting that Linguistics was the major for me.
Once registration for Freshman Fall quarter rolled around, I immediately enrolled in LIGN 101 with Professor Levy. My advisors warned me about taking an upper division course straight away, and I grew wary of my own ambition. However, I was just too excited for my brain to delve into the deep end and soak in all that the study of language had to offer me. All's well that ends well: I survived my first quarter, did well in my first upper division course, and was more enthusiastic about Linguistics than ever.
I feel lucky that I was able to enjoy learning during my undergraduate career, and am forever grateful to the Linguistics department for helping me pursue this degree. The professors were all very supportive, and I used my time at UCSD to work with them as much as possible. Besides the major-related courses, I took many electives under Professor Arvaniti, especially due to my fascination with sociolinguistics. I was also able to take multiple classes, including a Freshman Seminar (be sure to take advantage of those!), with
Professor Bakovic
. Furthermore, I participated in Independent Study (LIGN 199), where I assisted graduate students in collecting data for their respective linguistic studies. The research projects I participated in were guided by Professors Levy and Bakovic.
To facilitate my acquisition of linguistic concepts, it was beneficial to take language classes. As such, I expanded my linguistic repertoire with Spanish and Korean. Consequently, after graduating from UCSD in 2012, I ventured to South Korea as a GEPIK program employee to teach English at Buwon Elementary School and Tongjin Middle School. This stint abroad allowed me to utilize my Linguistics degree while concomitantly pursuing my interest in education. Not only was I granted the opportunity to travel to neighboring countries, but I was also able to immerse myself in the Korean culture. My fascination of the language, bolstered by my background in phonetics and phonology, was beneficial for establishing a fantastic rapport with my schools' staff and students. Familiarizing myself with Korean phonemes and vocabulary facilitated my assimilation into this foreign culture.
Although my five-year adventure teaching in South Korea has come to an end, I am now about to embark on another Linguistics-related journey as I pursue my Master's in Speech Language Pathology.