Resources for Staff
There are a number of resources to help orientate new staff.  
Systemwide:  https://ucnet.universityofcalifornia.edu/compensation-and-benefits/roadmaps/new-employee.html 
Campus:  https://blink.ucsd.edu/HR/services/new/index.html
The following resources will focus on orientating you to our Department.  If you have any questions, please ask your supervisor or the appropriate staff for assistance. 
The Department is located in the Applied Physics and Mathematics Building on the main UC San Diego campus.  The Department occupies the 2nd, 3rd and 4th floors.
2nd Floor




3rd Floor




Language Program

Academic Coordinator/ Lecturer Offices

Student Advising Offices

Student Lounges

ASL Classroom

Language Lab

4th Floor




Faculty & Administrative Staff Offices

Multipurpose Media Room

Research Labs
Areas of Interest:
Closest place to grab a bite:  Pines Cafeteria
Closest place to grab a cup of coffee:  Art of Espresso
Main dining options/banking:  Price Center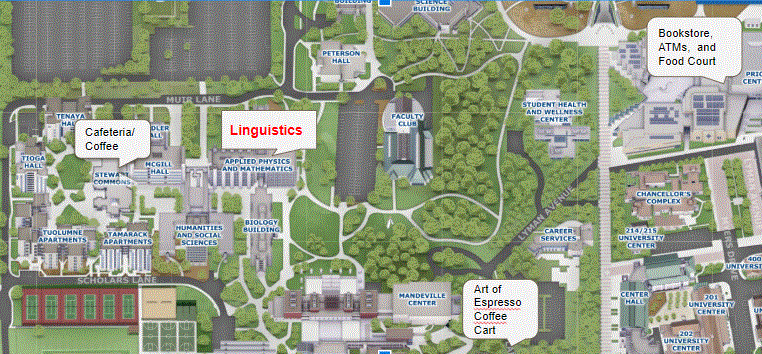 All new employees are required to attend a campus orientation held Mondays within their first 30 days of employment. Employees can register through the UC Learning Center once they've created a Single Sign On account. 
More information:  https://blink.ucsd.edu/HR/services/new/dates.html
Paychecks
For monthly paid employees, payday falls on the first working day of the following month (e.g., July earnings are paid on August 1), unless it falls on a weekend or holiday, in which case, payday will be the last working day of the month.  The only exception: December earnings are always paid on Jan. 1.
Biweekly paid employees are paid every other Wednesday.
Annual earnings for tax purposes run from December - November. 
Payroll and holiday calendar:  https://ucpath.ucsd.edu/benefits-payroll/payroll/index.html
Earning Statement through UCPath
From discounts on entertainment to cell phone plans, learn about the variety of benefits available to you as a UCSD employee.
Outside of Open Enrollment in November, certain life events, such as marriage or an addition to family, allow you to make changes to your benefits.  Please log into your UCPath account to view or make changes to your benefit enrollment.  Please note that changes must be requested within 31 days of the event.  Elections can be cancelled at any time.